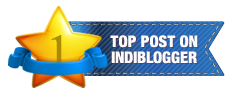 Okay ... Reason behind putting such a wonderful title is - Today I completed 6 months of my blogging journey and my blog is now 6 months old . This time I have many reasons to celebrate - In this journey of 6 months, I got many wonderful bloggers and many motivating people, 6 months of completion of blogging, 5000+ pageviews, 500+ comments , 4 Blog Awards.
When I look 6 months back, that time I had so many questions in my mind regarding the blogging. Questions such as - whether I can start a blog? who will visit the blog? in case there is no reader then what I will do? whether I will continue or not? How long I will blog? But then I decided to give it a try. And today I think it is one of my best decision to get into blogging. Blogging has helped me for my personal development. It has changed my life in many positive ways. I am not the same person that I was 6 months back :)
I want to thank from my bottom of my heart to all my Blogger Friends, Readers and everyone who always helped me and motivated me and encouraged me to come this far. Thank you very much. I hope you all will continue to give me your valuable suggestions, appreciation, feedback.

I am highly obliged to everyone who helped and supported me to come this long.
I thank Indiblogger for including this blog in the Indiblogger community and for the all the opportunities provided, it is really an amazing platform for bloggers.
I have learned many things about blogging in this period of 6 months but I still feel there are many more things that I am yet to learn. About photography, I am still in learning phase (or to be more precise - a beginner). There are many Bloggers who inspire me by their art of photography. They are so perfect in it. I always pay a close attention to photography and try to learn from others work. It is a continuous process of observing and learning. I have a long way to go, and I hope that I will have many such reasons for celebrations in future also.
Celebration begins -
Chocolate cake for celebration -