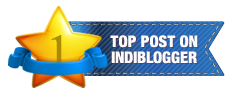 Thank you all for appreciating me and for liking my post (
link
). In this post I am going to show how I made that rangoli. Here is the step by step process explained with help of pictures (pictures obviously taken by me :-) )-
Preparations - (Things required )
- Empty Contairner, Water, Rangoli colors, Talcum powder or rice flour and rangoli stencil (optional)
Step 1 :
Empty container is to be placed where you want to place the rangoli. (after completing rangoli you cannot shift it otherwise rangoli will get spoiled.) . I took a glass bowl.
Fill the container with water. The level of water can be as per your choice. But the container should not be filled to the fullest level.
Step 2
:- sprinkle talcum powder (alternatively rice powder can be used) on water and cover the surface by powder. I have used talcum powder as I was having a box of unused talcum powder (expired) which came free along with some product some time back.
Step 3 : Rangoli color as per your choice may be used as background color (optional, direct design can be made on this base)
Step 4 & 5 : Drawing the Rangoli design on the base. And give it a finishing touch. I have used rangoli stencil to get quick result. But design by hand can be made.
Results - (Final view of rangoli design) -
Rangoli will stay as it is unless and until you try to shift the bowl. My
previous rangoli
stayed as it is for 2 days and it got spoiled when I tried to shift the container with little pressure.
I hope that you all will like this post. For any query - please post in the comment form.
( P.S - I was in a little hurry to complete the rangoli. I made it in flat 10 minutes. So according to me it has the scope to be more perfect)