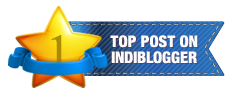 I started my blog on 1st June 2013. My journey on blogger has been like a dream.
While blogging and learning many new things, I came to know about India's Largest blogging community i.e Indiblogger. I joined Indiblogger on 11th September 2013. There I found wonderful blogs and wonderful people. I am very glad to be a part of Indiblogger community.
Now this may sound stupid …… I was eagerly waiting to know my Blog's first Indirank …… I was expecting it somewhere near 25 to 30 but then I was surprised to see my Indirank 72. I was very happy at that moment.
Blogging has changed my life in so many positive ways. Also Today when I go back and see to my blog's posts, blog statistics, IndiRank I feel immense pleasure. I still could not believe that's me. I can not devote much time on my blog due to my final studies but I enjoy blogging in whatever time remaining with me. I still have to learn so many things and there is a long way to go. But then as said "Journey of thousand miles begins with a single step."
here are Some yummy "Sweet" memories I captured -
Fresh Jalebi ...........
Modak Pedhas ............
The sweet box cover .......